Air Mauritius has taken delivery of its first Airbus A350-900 aircraft.
The Mauritian airline is operating the aircraft in a two class layout with a total of 326 seats – 28 in Business Class and 298 in Economy Class.
The A350-900 equipped with Air Mauritius' latest cabin products including new seats, an all-new inflight entertainment system and inflight connectivity will offer passengers unparalleled levels of comfort and convenience.
This A350-900 is the first of six to be delivered to Air Mauritius. Four will be purchased directly from Airbus and two leased from AerCap. The carrier will deploy the aircraft on its expanding route network connecting Mauritius with Asia, Africa and Europe.
Air Mauritius already operates a fleet of 10 Airbus aircraft including six A340-300s, two A330-200s and two A319s on its regional and long haul services.
The A350 XWB features the latest aerodynamic design, carbon fibre fuselage and wings, plus new fuel-efficient Rolls-Royce engines. Together, these latest-generation technologies mean new levels of operational efficiency, with a 25 per cent reduction in fuel burn and CO2 emissions, in addition to significantly lower maintenance costs.
To date, Airbus has booked a total of 858 firm orders for the A350 XWB from 45 customers worldwide, making it one of the most successful widebody aircraft ever.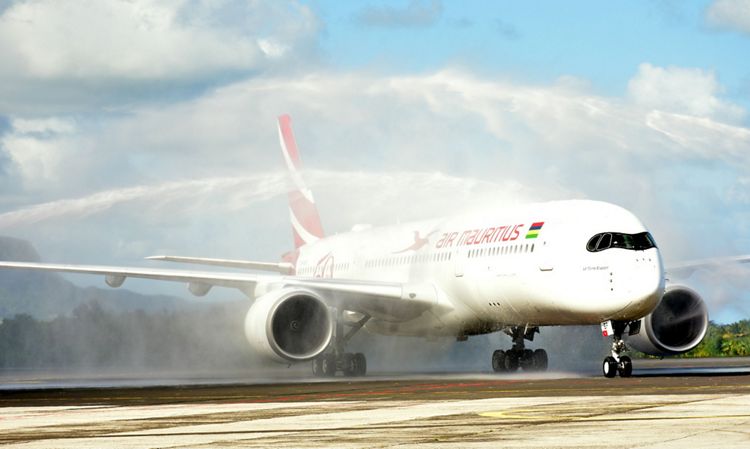 About Air Mauritius
Air Mauritius is the flag carrier airline of Mauritius. The airline is headquartered in Port Louis, Mauritius. Its main hub is Sir Seewoosagur Ramgoolam International Airport (MRU).
Routes: Air Mauritius operates to more than 20 destinations in 4 continents.
As well as a small number of regional routes, it operates a large number of routes to Asia, including Beijing, Shanghai, Hong Kong, Kuala Lumpur, Singapore and 4 cities in India (Bangalore, Chennai, Delhi, Mumbai).
Outside of Asia, routes are to London Heathrow, Paris, Perth, Cape Town, Durban, Johannesburg, Nairobi and Dubai.
Fleet: Air Mauritius currently operates a fleet of 14 aircraft and 2 helicopters.
2 Airbus A319
2 Airbus A330
6 Airbus A340
1 Airbus A350
3 ATR 72
2 Bell Jet Ranger helicopters
Passenger numbers: About 1.5 million per year.
Alliance: Vanilla Alliance
Internet links